Germany fire: Firefighters battle huge Berlin forest blaze

Europe Europe Germany fire: Firefighters battle huge Berlin forest blaze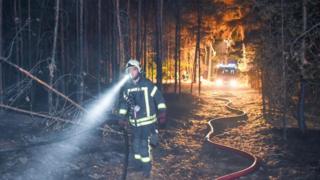 Firefighters in Germany are battling to subdue one of the largest forest fires in recent decades, around 50km (30 miles) south of Berlin.
The blaze spread overnight on Thursday to an area equivalent to 500 football pitches.
Fire crews, many of them volunteers, had their work complicated by the presence of unexploded munitions, which litter the forests around Berlin.
Hundreds of people have been evacuated from homes menaced by the fire.
Authorities said 540 from three villages were moved to safer places, mostly emergency accommodation.
Blazes near the village of Treuenbrietzen were targeted by helicopters dropping water from above. Police water cannon have also been deployed.
"I have huge respect for the firefighters who are out there right now, risking their lives," local politician Günter Baaske said.
"We know there is ammunition lying around in the forest."
The munitions are believed to date from the Soviet Army's actions in the former East Germany, during World War Two.
Mr Baaske added that some explosions had been heard.
How wildfires start and how to stop them
Why wildfires are breaking out in the 'wrong' countries
The photos that explain the world's wildfires
Authorities have said the fire is now under control, but that it may take days to fully extinguish.
The blaze is believed to have been started deliberately.
The BBC's Berlin Correspondent Jenny Hill reports that people living in the capital were told to close their doors and windows because of a cloud of smoke hanging over the city.
So far, air traffic to and from Berlin remains unaffected.
Top Stories
Trump financial chief 'given immunity'
Trump Organization finance boss, Allen Weisselberg, gets legal immunity in the Michael Cohen probe.
24 August 2018
John McCain halts brain cancer treatment
24 August 2018
'No safe level' of alcohol consumption
24 August 2018
Features
'I caught my brother's killer on Facebook'
A PM felled by revolts and revenge
Florida powerless to stem deadly 'red tide'
The reunion that took half a century
Video
IS attacks have 'reawakened our tragedy'
Video
The Soviet war on alcohol
'Lollipopes' and flags for the Pope
Quiz: Who's the surprise bride?
The story behind a giant ship
Elsewhere on the BBC
Football phrases
15 sayings from around the world
Full article Football phrases Why you can trust BBC News
BBC News Services
On your mobile
On your connected tv
Get news alerts
Contact BBC News
Source:
Google News Germany
|
Netizen 24 Germany