German Jews propose anti-Semitism lessons for Muslim migrants

Europe Europe German Jews propose anti-Semitism lessons for Muslim migrants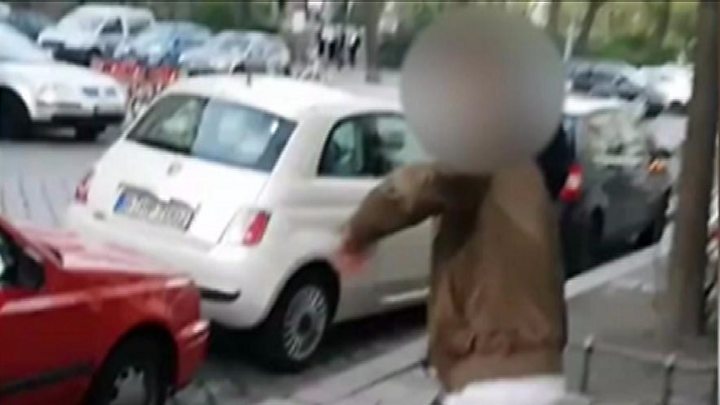 Germany's foremost Jewish organisation has called for special classes for Muslim immigrants to help stop the spread of anti-Semitism.
Its vice-president, Abraham Lehrer, said many migrants were arriving from countries where "anti-Semitism is part of the rationale of the state".
He said integration classes should be "tailored" by country of origin.
Germany has seen a large increase in asylum seekers since 2015, many of whom come from Muslim-majority countries.
The country is battling a wave of anti-Semitism, partly attributed to rhetoric from the far-right Alternative for Germany (AfD).
Hundreds of anti-Semitic incidents were reported in Germany last year, the vast majority of which were carried out by neo-Nazi or other far-right groups.
Germany to fight anti-Semitism in schools
Are migrants driving crime in Germany?
Mr Lehrer, from the Central Council of Jews in Germany, said that anti-Semitism among migrants was a problem which "still lies ahead of us" as migrants settle permanently in the country.
"Many of these people were influenced by regimes in which anti-Semitism is part of the rationale of the state and the J ewish state is denied the right to existence," he said in remarks reported by Deutsche Welle.
"When these people no longer just think of finding jobs and housing, this influence will have a greater bearing and people will express their opinions openly.
"In order to prevent this scenario, we need to tailor integration courses more closely to these people, preferably by country of origin."
Mr Lehrer called for integration classes to assign hours of teaching to "fundamental values" such as democracy and the treatment of women.
But he also criticised the AfD party, saying it "creates a platform on which anti-Semitism can grow and manifest itself openly".
He pointed to the party's opposition to Jewish traditions such as circumcision and strict methods of animal slaughter for meat.
"The AfD is a kind of catalyst for various groups with anti-Semitic roots," he said.
AfD, however, has denied any anti-Semitic views in the party, and opened a Jewish group within its ranks in October - a move which itself drew criticism from other German Jews.
Just how far to the right is AfD?
Top Stories
Iran vows to 'break' US sanctions
The US is re-imposing sanctions that were lifted as part of the 2015 nuclear agreement.
5 November 2018
Frantic final day for US mid-term campaign
5 November 2018
Ireland warns UK over post-Brexit border
5 November 2018
Features
Does sex addiction really exist?
The ordinary people making the world more right-wing
NZ fisherman rescues baby from ocean
Video
Why do so many Americans not vote?
Four things to know for the week ahead
The artists tackling body dysmorphia
Kenyans cash in on avocado craze
Can we tell yet if the Democrats will win?
Video
Last match at Sri Lanka's iconic stadium?
Elsewhere on the BBC
Football phrases
15 sayings from around the world
Full article Football phrases Why you can trust BBC News
BBC News Services
On your mobile
On your connected tv
Get news alerts
Contact BBC News
Source:
Google News Germany
|
Netizen 24 Germany