Holocaust trial: Germany tries former SS guard at Stutthof camp

Europe Europe Holocaust trial: Germany tries former SS guard at Stutthof camp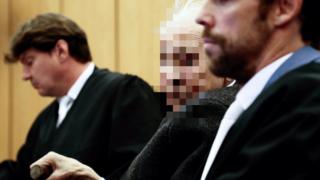 A former SS guard has gone on trial in Germany accu sed of complicity in mass murder at a Nazi death camp during World War Two.
Named only as Johann R by authorities, the 94-year-old served in the Stutthof camp in what is now northern Poland from June 1942 to September 1944.
He denies knowing anything about atrocities committed there.
Because he was not yet aged 21, he is being tried in a juvenile court in Münster, western Germany.
US deports Nazi camp guard to Germany
The hidden graves of the Holocaust
Auschwitz inmate's notes from hell finally revealed
The Holocaust year by year
He faces a sentence of 15 years if convicted but the wheelchair user is unlikely to serve any actual time in prison because of his advanced age.
His court appearances will be limited to two hours at a time for the same reason, Dortmund prosecutor Andreas Brendel told AFP news agency.
What are the accusations?
More than 100 Polish prisoners were g assed at the camp on 21 and 22 June 1944, as well as "probably several hundred" Jewish prisoners who were killed between August and December 1944.
The defendant is "accused in his capacity as a guard of participating in the killing operations", said Mr Brendel.
"Many people were gassed, shot or left to die of hunger," he added.
What was Stutthof?
Located near the city of Danzig (now Gdansk), it was originally an internment camp before being officially designated a concentration camp in 1942.
From Jun e 1944, prisoners were murdered in a gas chamber.
More than 65,000 people died in Stutthof before it was liberated by the Soviet Army on 9 May 1945.
Who is the defendant?
Johann R was captured by the US Army after the war but returned to civilian life, working as a landscape architect for the North Rhine-Westphalia state authorities.
Questioned by police last year, he denied knowing about atrocities in the camp.
"If one looks at how many evil doings and crimes were perpetuated, one can understand why elderly people too have to face prosecution," said Mr Brendel.
"Germany owes it to the families and victims to prosecute these Nazi crimes even today. That is a legal and moral question."
Top Stories
Americans vote in key election for Trump
The vote will change the make-up of Congress, and reveal how Americans view Trump's presidency.
6 November 2018
Voting begins in high-stakes US elections
6 November 2018
Invincible, but for how much longer?
5 November 2018
Features
Invincible, but for how much longer?
Large hyd ropower dams 'not sustainable'
NZ fisherman rescues baby from ocean
Israel-Arab ties warm up after long deep freeze
Deal or no deal - how are EU countries preparing?
India's tiger killings: A success story gone wrong?
The city banking on more guns to make it safer
How the humble lamp-post could help power our cities
Video
Last match at Sri Lanka's iconic stadium?
Elsewhere on the BBC
Football phrases
15 sayings from around the world
Full article Football phrases Why you can trust BBC News
BBC News Services
On your mobile
On your connected tv
Get news alerts
Contact BBC News
Source:
Google News Germany
|
Netizen 24 Germany